The Complete Wedding Checklist
Planning a wedding is no easy feat. You might be wondering where to even start! Whether you're pulling out all the stops or just keeping it simple, this is your comprehensive guide to keep your planning on track.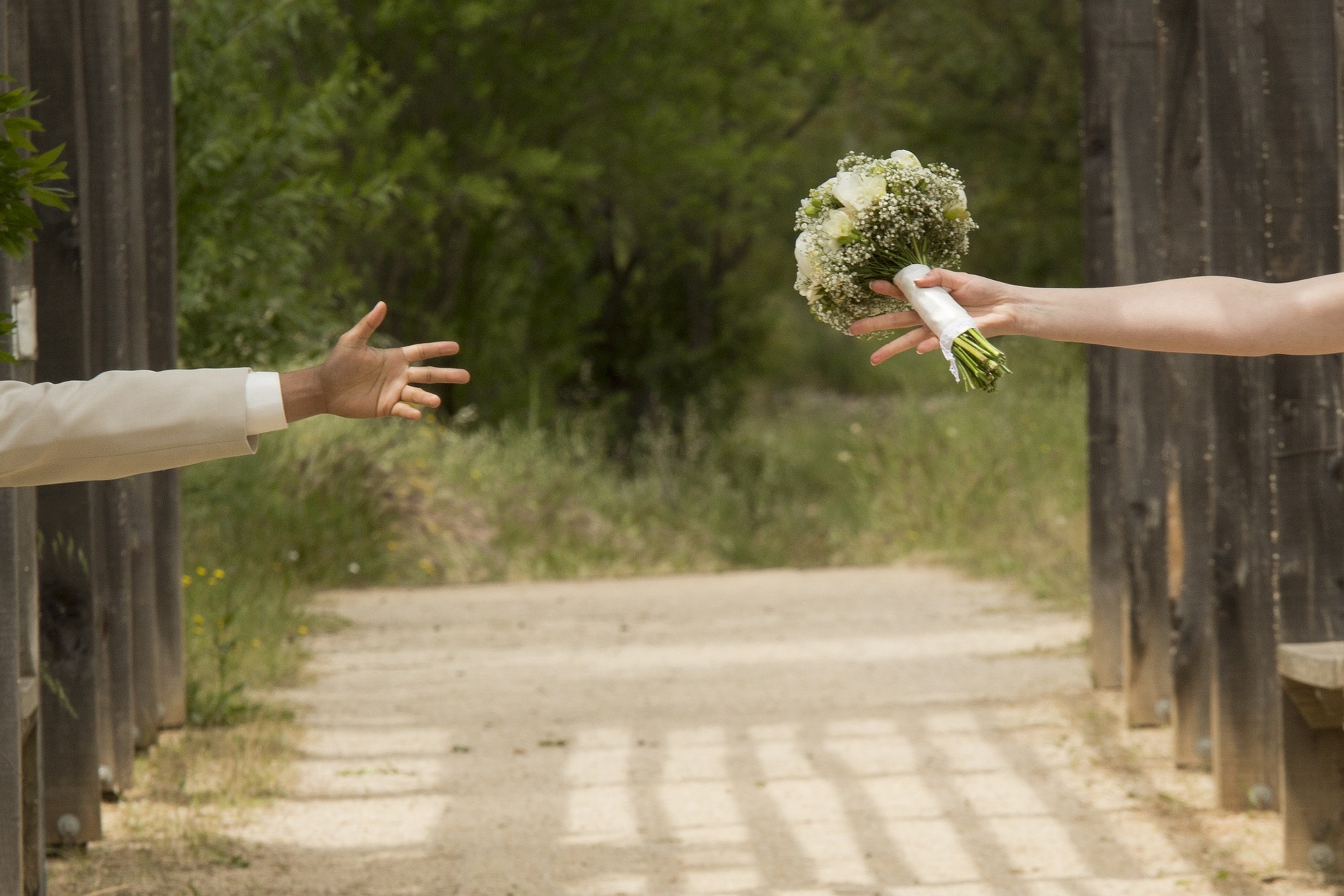 10-12 Months
– Celebrate Your Engagement!
Congratulations! You're getting married! Make the most of this time. You can plan a photo shoot, throw a party, or just enjoy the pure bliss of your engagement period!
– Set A Date
Will you be walking down the aisle on the anniversary of your first date? Have you always dreamed of spring wedding full of blooms, or a winter wedding with holiday sparkle? Will vendor availability, or local events factor into your decision? Now's the time to decide!
– Get Creative
Fire up those Pinterest boards! This is where you and your partner get to use your imaginations and sculpt your vision of your big day! Jot down some ideas for color schemes and overall style. You can even start a wedding hashtag or build a wedding website if you wish. Attending our bridal show will help you find inspiration as well as special discounts- and maybe even some prizes!
– Decide On Your Budget
No fun, we know.. but setting a budget is crucial to planning your wedding. Figure out how much you and your partner are comfortable spending and whether or not your families are willing to contribute. From there you can make a list of priorities (and non-essentials) so you can designate funds accordingly. We recommend keeping a detailed spreadsheet so you can easily track all of your spendings. Don't forget to factor in extra fees like setup and breakdown charges, taxes, and tips.
– Choose Your Wedding Parties
If you choose to have a wedding party, these will be the people standing by your side on one of the most important days of your life, so choose wisely! Whether it's family or your closest friends, pick the ones you trust. Set reasonable expectations for them, and let them know as soon as you can so they have plenty of time to prepare.
– Start Your Guest List
This can be one of the tougher tasks to tackle, but getting a head start on your guest list will save you a lot of grief later on. It will be useful to a lot of vendors and ultimately help establish your final budget. Be aware of what your finances can handle, and don't forget about the plus ones! If you're having trouble narrowing down your selections, think about the people that really matter. Will they still be in your life ten years down the road? If so, invite them. Anyone else is negotiable.
Pro tip: If you plan on having a destination wedding, it's a good idea to give your guests 8 to 12 months notice.
– Consider Hiring A Wedding Planner
While a lot of couples choose to plan their weddings themselves, there are many benefits to collaborating with a professional. Planning a wedding can be an overwhelming task, so it never hurts to have a seasoned expert in your corner. From coordinating vendors to managing your budget, a wedding planner can keep the process running smoothly and help your dream wedding come to life! 

Recommended
Bridal Consultants

– Secure Your Venue
Location, location, location… Whether you want to be married in a church, your backyard, or at the beach, you'll want to pick a place that sets the tone. Perhaps you want to have the wedding in one place and the reception in another. While reviewing your options, make sure your venue(s) fits the budget, is available for the date you've chosen, and capable of accommodating your guests. Once you've decided, take a tour! Take note of things such as bathroom locations, parking space, and options to counter inclement weather. Ask plenty of questions and make sure EVERYTHING is put in writing when you're ready to seal the deal!
– Hire A Caterer
Some venues offer on-site catering. If not, don't panic- your venue is likely to have a list of preferred vendors to help narrow down your search. When choosing a caterer, you'll want to evaluate their food, presentation, and the quality of the team's service. You'll want them to be licensed (meaning they have met local health department standards) and carry liability insurance if you're going to be serving alcohol. Whether you're looking for a gourmet experience or a family-style buffet, the number of expected guests is a pivotal factor in your overall catering budget, so be sure to have that information handy!
Pro tip: Don't forget to consider any dietary restrictions your guests may have! Inform your caterer of any allergies and ask about their vegan, gluten-free, and kosher options.
– Book Your Officiant
Every couple is unique and deserves to have a special ceremony that represents who they are. Be it a religious or civil ceremony, your officiant can heavily influence the atmosphere of your wedding, so try to find someone who's style resonates with you. Check that your officiant is ordained in your state and open to giving you options for different types of vows, readings, and ring exchanges.
– Find Your Photographer/ Videographer
Popular photographers book out far in advance, so it's wise to start your search early. Spend the time to look each candidates' full portfolio and determine whose style speaks to you. Once you make your selection, it's a good idea to meet with them to go over packages and contracts. Be sure to let them know what shots are a must-have on your big day!
– Begin Dress Shopping
Shopping for your wedding gown is one of the most exciting part of the process! If you haven't already envisioned your dream gown, do some research and find out what styles of dresses you like. Try to familiarize yourself with the language of bridal fashion: terms like "A-Line", "Sweetheart", and "Organza". From there you'll want to schedule your appointment at a bridal salon as early as possible. That way you have plenty of time to make your final decision and place your order by the 6-8 month deadline required by most salons. Once it arrives, you'll still need to factor in more time for alterations and accessorizing.
Enter the bridal shop with a small entourage and an open mind. Bring any photo references that will help you convey your desires. When trying on dresses, don't forget to sit down and move around to be sure your dress is comfortable!
– Start Planning Your Honeymoon
After all the hard work put into your wedding, you'll both have earned a vacation! Once you agree on a destination and a budget, start saving! Conserve all the money and vacation days that you can. If you're looking for guidance, consider using a travel agent. Travel agents have the knowledge and resources to make your dream honeymoon a reality!
6-9 Months
– Book Your Florist
When it comes to wedding florals, choosing and coordinating your stems can be a lot of fun! Your florist is there to help you get more blooms for your buck! Do your homework. Identify your style so you can properly communicate what you're looking for. From there your florist will find you flowers that fit the color palette, season, and your budget.
– Choose Your Entertainment
Needless to say, the music at your wedding plays a huge part in setting the mood for your big day! First things first, decide whether you want a band or a DJ. Maybe you'd like a string quartet for the ceremony and a DJ for the reception. Whatever the case, listen to any promotional material you can find. Keep your venue space in mind as you review your options. Once you've chosen, meet with them to discuss the type of music you prefer to hear at the ceremony, reception, cocktail hour, during your first dance, etc. Create a list of specific songs you'd like to hear, and leave the rest to them. A good band or DJ will know how to prepare a proper setlist and fill the dance floor!
– Purchase Gown & Bridesmaid's Dresses
Once you've officially ordered your wedding dress, it's time to pick out the bridesmaids outfits! While bridesmaids dresses don't take as long to arrive as your wedding dress will, it can still take months. Gather your ladies and head to the bridal shop! You should also take a look at shoes and accessories at this time. If you're looking to match the bridesmaid's dresses to the groomsmen's vests, ask for swatches to bring along to the tux shop!
– Pick Out Tuxedos
Now that the ladies have chosen their dresses, it's time for the men to (ha..) follow suit! Decide whether you want to buy or rent a tux. Keep style, colors, and comfort in mind. Do your research and come prepared with any color swatches and questions you may have. 
– Find Your Hair & Makeup Artist
You definitely want to look your best on your wedding day- both in person and in photos! Be it an elegant up-do or a boho down-do, a stylist can turn your ideas into the perfect look! Look over portfolios and make your pick. Meet with them and schedule a hair and makeup trial before your wedding. The more description and photo references you can offer the artist you're working with, the better. You should also bring along any hair accessories you plan to wear. Come your wedding day all you should have to do is sit back, relax, and let the stylist take care of you!

Recommended Hair &
Makeup Professionals

– Create Your Registry
While it's acceptable to start your registry as soon as you're engaged, we definitely recommend setting it up about 8 months in advance. There is no shortage of online registries nowadays, some that even allow people to contribute to your honeymoon! Work with your partner and tailor your registry to your soon-to-be-married lifestyle & hobbies. Once you've finished you can add it to your wedding website, if you choose to have one!
– Start Ordering Stationary
Think "Save The Dates", invitations, inserts, RSVPs, envelopes, and thank you notes. The wedding invitation is a guest's first preview of what your wedding day will have in store, so make a good impression! If you're going the custom route, start working with a graphic designer, calligrapher, or stationer right away. While you don't have to send formal invitations 6-8 weeks before the wedding, it's always a good idea to get a head start!
– Reserve Accommodation For Guests
It's courteous to block out rooms for out-of-town guests. Most hotels offer a complimentary room block specifically for weddings and small groups. Some even offer a discounted rate! You will be given a date that your guests have to reserve the rooms by. After that period, the rooms will be released from the block and return to standard price. While securing room blocks, keep in mind proximity to the venue, amenities, and price. If possible, find two or three hotels with a range of price points. That way guests looking for a high-end option know where to go while giving a comfortable choice to those on a budget. Provide your guests with the name and address of the hotel, along with the number to call, and a code they should reference (ex. "the Johnson wedding") to get the discounted rooms you've reserved. Make sure to read over the contract the hotel provides and make sure you won't be billed for unused rooms.
– Shop for Wedding Bands
The options for wedding bands are seemingly limitless! The right jeweler help will narrow down your choices as far as design, comfort, and budget goes. Whatever you choose, allow time for the rings to be ordered and resized if necessary.
– Find Your Cake Designer
While cake designers are typically on the "less time-sensitive" hiring list, you still want to give your baker plenty of time to prepare. Find a baker that aligns with your aesthetic and set up a meeting. Keep your guest list in mind as you consider the size, style, and budget for your cake. Then comes the moment you've been waiting for your whole engagement- cake tastings!
– Reserve Transportation
The Monadnock Bridal Show is proudly hosted by Adventure Limousine & Transportation. Hiring transportation is a good way to avoid unnecessary stress on your wedding day. We offer limousines, specialty cars, and shuttle services. Your driver will ensure that you arrive safely and on time. All you have to do is sit back, relax, and enjoy the complimentary champagne! We will literally roll out the red carpet for you and help out wherever else we are needed. No matter what your itinerary, we are at your service!
– Secure Rentals
If your venue doesn't provide tables, chairs, linens, or dinnerware, find out if the caterers do. If not, a rental company surely does. From the basics like linens and chairs to specialty lighting and dancefloors, rentals are limited only by your imagination! While many of these items are considered extras, customizing the smaller details helps give your guests a truly immersive experience! Rental companies have everything you need to add your personalized finishing touches to your big day!
– Schedule Bridal Shower/ Bachelor & Bachelorette Parties
Hand over your guest lists to your hosts at this time, and give them an idea of what you want your party to be like!
3-6 Months
– Finalize Guest List & Order Invitations
Once you and your designer are happy with the final product and you have a better sense as to who will be in attendance, you can go ahead and order your invitations! Make sure you order enough and leave room for mistakes. An extra dozen is a safe bet. You may also want to save a few as keepsakes.
– Schedule Rehearsal/ Rehearsal Dinner
Traditionally, the groom's family hosts the rehearsal dinner. Regardless of who's hosting, you should discuss the theme and location of the event well in advance (especially if you're paying the bill). Besides inviting close family, your officiant, and your wedding party, you may also want to consider any out-of-town guests and their respective spouses. You can include these invites with your wedding invitations or send them shortly after. Just be sure you inform of your guests where to be and when as well as what the menu might have in store!
– Put In For Time Off Work
Don't wait until the last minute! Give your boss as much notice as possible so they have ample time to ensure that your schedule is covered. Ideally, you should talk to your boss before booking any pricey, non-refundable arrangements. You may also want to think about taking the week before your wedding off work to relax and make sure everything is squared away!
– Confirm Honeymoon Plans
Book flights & hotels or work with your travel agent as necessary. Arrange care for your pets. Obtain (or renew) your passports along with any other documentation you may need, and don't forget to get any vaccinations recommended for your destination!
– Procure Accessories For Ceremony & Reception
This means your guestbook, cake toppers, flower girl/ ring bearer accessories, card box, toasting flutes, etc. Start crafting any DIY activities now so you'll have less to worry about down the road.
– Purchase Gifts For Bridal Party
A little gratitude goes a long way! Your goal should be to gift something that's thoughtful, functional, and personalized. If you're struggling to find the perfect gifts, fear not- the internet has plenty of ideas.
3 Months
– Obtain Marriage License 
Check the laws in your state to ensure your nuptials are legally recognized. In New Hampshire, you and your significant other must appear in person at your Town Clerk's office with your identification handy, along with proof of previous divorce (if applicable). At that time, they will grant you a "Certificate of Intent" for a $45 fee. You will need to return in a few days to pick up and sign the "Marriage Certificate", which costs $15. The certificate is valid for 90 days. Your officiant will sign this document on your wedding day, so don't lose track of it! This is also a good time to start thinking about updating other legal documents such as your driver's license, social security card, lease, credit cards, wills, etc.
– Plan Your Menu
After you've achieved a successful tasting, you'll be much more familiar with what your caterer has to offer, so you're ready to map out the menu! Whether you hand-pick every hors-d'oeuvre or decide or put full faith in the chef, now is the time to finalize a menu that suits your budget, tastes, and the needs of your guests.
– Write Your Vows/ Speeches & Select Readings
If you've opted to write your own vows, make sure you, your partner, and your officiant are all on the same page. Take some time to reflect on your partner, your relationship, and the promises you want to make to them. If you get stuck, there is plenty of inspiration out there! Less is usually more, so as you practice your vows out loud, try not to exceed two minutes.
– Schedule A Fitting
This goes for brides and grooms! Bring the proper undergarments, accessories, and shoes along to get the full picture. If alterations are needed, multiple fittings may be necessary. Regardless, it's recommended that you have a final fitting one to two weeks before the wedding.
2 Months
– Send Invitations 
Double-check all addresses and spelling before you send! Be certain they will arrive on time and set up a system for recording RSVP replies. RSVPs should be due no later than one month before the wedding!
– Print Any Remaining Stationary
This means ceremony programs, menus, escort cards, and table number cards. You'll have a better idea of exactly what you need as your RSVPs are returned. Remember to order extras to account for mistakes or keepsakes.
– Create A Timeline For Your Wedding Day
Now is the time to create your timeline if you've not done so already. Having a schedule for your wedding is a good way to stay organized and keep things running smoothly. What time will your ceremony take place? What time does the reception start? How much time will it take for hair and makeup? What about photos? These are all good questions to ask yourself as you map out your timeline. You may run a little ahead or a little behind, so make sure to build in some buffer time.
– Tie Up Any Loose Ends
Take a final walk through your venue. Have another fitting. Finish up any DIY projects you may have been procrastinating on. Do whatever you need to do to be certain that everything will run smoothly on your big day!
– Enjoy Your Bridal Shower!
If you choose to have one!
1 Month
– Get A Final Head Count
Hunt down any stragglers who've yet to return an RSVP. Once you've tallied up the final numbers, pass it on to any vendors necessary.
– Create A Seating Chart
Tackling your seating chart can seem like a daunting task, but don't put it off. Stay calm, and start another spreadsheet. Categorize all invitees by relationship and don't be afraid to color code. Take the personalities of your guests into account and think about and who will get along well. Try to keep families together, and of course, avoid awkward decisions that could lead to conflict. Keep the shape and size of your tables in mind along with the floor plan of the venue so you can fit your guests comfortably. Think about who you want at the head table, if you want a head table at all. Once you're done, get it to the printer! You'll want to allow time for printing and delivery.
Reminder: Don't worry too much over your choices. Wedding attendees are typically on their best behavior and ultimately don't spend too much at their table!
– Pay Your Vendors In Full
Avoid awkward encounters on your wedding day by making sure ALL of your vendors have been paid. Double-check all of your contracts and see if gratuity is included. If there are vendors who need to be paid or tipped that day, have the cash or checks ready in advance.
– Final Fitting
At this point, you should have a perfect fit! It is wise to bring your maid of honor along so she can learn how your dress works and assist you when the time comes. Take it home and store it safely!
– Enjoy Your Bachelor & Bachellorette Parties!
Or your "Jack & Jill"!
1 Week
– Confirm All Wedding Party Responsibilities
Deliver your rings to the best man. Make sure the maid of honor has her speech prepared. Be certain everyone is up to date with your timeline and knows exactly what is expected of them to avoid any confusion.
– Prepare Vendor Tips
At a wedding, it's customary to tip servers, drivers, musicians, hair stylists, makeup artists, and bartenders. Hand the labeled envelopes off to a trusted member of your family or wedding party.
– Pack For Honeymoon
While it's easy to forget in the midst of all the excitement, it's a task you're better off completing sooner rather than later. Pack all the essentials, but don't overpack- unless you're fine with paying those pesky baggage fees at the airport! Don't forget your tickets, identification, or prescriptions!
– Break In Your Wedding Shoes
To avoid dealing with any blisters or blunders that shoes can create, get comfortable in with them in advance. Walk around, dance, and scuff the soles to avoid slipping.
– Practice Your Vows Outloud
Practice makes perfect!
– Get Your Engagement Ring Cleaned
You can bring your ring to the jeweler to have it cleaned. Most will do so for free. Alternatively, you can do it at home using soap, warm water, and a soft bristle toothbrush.
– Take Care Of Any Pampering
Get your haircut and colored, get your nails done, go tanning, get a massage, or just relax and de-stress. Do whatever it takes to help you feel confident and ready for your big day!
– Organize An Emergency Kit
Prepare a collection of items like tissues, safety pins, needle & thread, pain relievers, antacids, dryer sheets (for removing static cling), stain removers, extra makeup, bobby pins, hair ties, hairspray, clear nail polish, tweezers, dental floss, deodorant, Qtips, breath mints, and anything else you may need for a "what if" scenario. Hopefully you won't need any of them, but hey, just in case…
Day Before
– Pack Materials
Gather any items you may need to bring to the wedding. Put them in the car, or wherever they need to be so you won't have to worry about it in the morning!
– Attend Rehearsal/ Rehearsal Dinner
Weddings run a lot smoother when you've had a test-run. Give it a go! After that, you'll be rewarded with a nice dinner and quality time with your loved ones!
– Write Your Partner A Note
It's common for lovers to exchange letters on the day of the wedding. Keep it brief and share your feelings about how excited you are to spend the rest of your life with them! The best man or maid of honor can deliver it in the morning!
– Take Care Of Yourself!
Eat healthy, stay hydrated, and get a good night's rest. Don't spend any time stressing over the small stuff. Take this time to focus on your happiness. You're getting married!!!!
Day Of
– Say "I Do"
You did it! All that matters today is that you and your partner are spending the rest of your lives together!
– Celebrate
With your family, friends, and new spouse!
– Take Mental Snapshots
It goes by fast!